Zynex Medical Case Study

Services:
Email Marketing

Industry: Healthcare & Medical Devices

Objective: Get leads from medical practitioners for Zynex's Nexwave product

"MediaMagic was incredibly helpful in building our sales pipeline.
They thoroughly plan our campaigns and execute on the plans and email automation to nurture leads."

Download the Zynex Medical Case Study
PROBLEM AND CHALLENGES

they faced before they came to the MediaMagic Team for Help
The primary requirement of the marketing campaign was to acquire more leads for the company's NexWave product by providing quality services in demographic target audiences planning and Setup, Automation, Management, and Analysis of email marketing campaigns. The biggest challenge we faced while creating the campaign was fixed zip codes for finding leads and less content about the product.

Solution and Results
The email marketing strategy included finding a list of cold leads in the zip codes and providing all content, email copies, automation, landing pages, and integrations to convert the cold leads into successful customers.
Our process started by creating custom landing pages to collect leads for our email marketing campaign, which focused on the benefits of the products. The next process included creating a list of laser-targeted audience and email copies. We have targeted physiotherapists, chiropractors, pain clinics, etc, who were more likely to convert to his product. We also integrated our email marketing efforts with our client's Hubspot CRMs and tools to measure our performance and lead nurturing processes.
Cold leads
The email marketing strategy included finding a list of cold leads in the zip codes
Custom Landing Pages
to collect leads for our email marketing campaign which focused on benefits of the products
Laser-targeted email copies
We have targeted physiotherapists, chiropractors, pain clinics, etc who were more likely to convert for his product
19.2% avg. Email Open Rate
with 9.9% of Click-Through rate among those who opened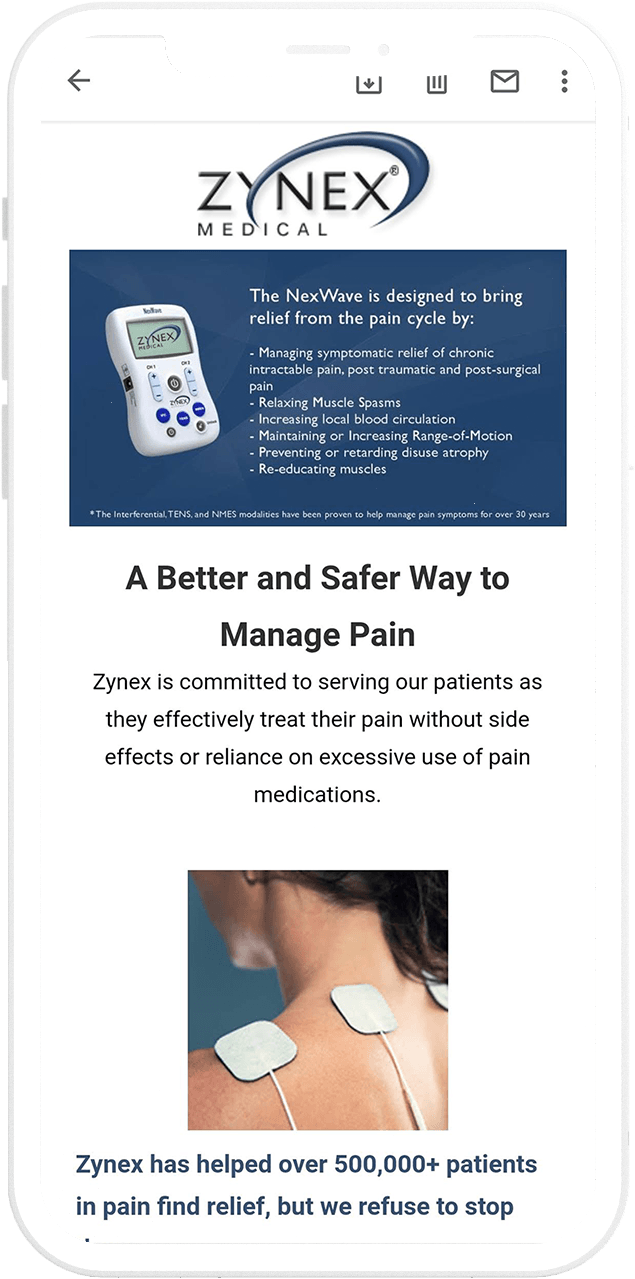 Cold leads
The email marketing strategy included finding a list of cold leads in the zip codes
Custom Landing Pages
to collect leads for our email marketing campaign which focused on benefits of the products
Laser-targeted email copies
We have targeted physiotherapists, chiropractors, pain clinics, etc who were more likely to convert for his product
19.2% avg. Email Open Rate
with 9.9% of Click-Through rate among those who opened
STUDY SOME
SIMILAR CASE STUDIES