BiohackingCongress SEO Case Study

Services: SEO,

Industry: Healthcare & Medical Devices

Objective: Get Ticket sales for BiohackingCongress Event, Promote the Miami event & boost organic traffic to generate ticket sales

"…After onboarding with MediaMagic, we worked with a great team of brand and graphic designers, project managers, and campaign managers: Isha collected all information they needed to make our project successful and efficient. And she started to make it happen as soon as possible. As a result, our sales increased 500% over the last event in Santa Clara, CA. We love MediaMagic and look forward to continuing to work with them and increase our collaboration."

Download the BiohackingCongress SEO Case Study
PROBLEM AND CHALLENGES

they faced before they came to the MediaMagic Team for Help
The primary requirement of the Search engine marketing campaign was to sell tickets for the BiohackingCongress in Miami by providing quality Setup, Management, and Analysis of the Google ads campaigns.

Solution and Results
Our customer SOLD OUT the event and had over 600 attendees in Miami, Florida!
Our results exceeded expectations.  In comparison, BioHacking Congress only had 15 paid onsite attendees in San Jose, California, before engaging MediaMagic.
500+ attendees
visited & watched the event after a 5 months campaign
335 ONSITE TICKETS SOLD
which was 111.6% of the target
284 LIVESTREAM TICKETS
found their buyers within 5 months
88.76% more new users
the website got after initial On-Page and Off-Page SEO activities
15% avg. Email Open Rate
with 0.8% of Click-Through Rate among those who opened
3.6% avg. CTR in Social Media Paid Ads
Facebook stats say, Overall Healthcare Niche has 0.83% as an average Click-Through-Rate (2019)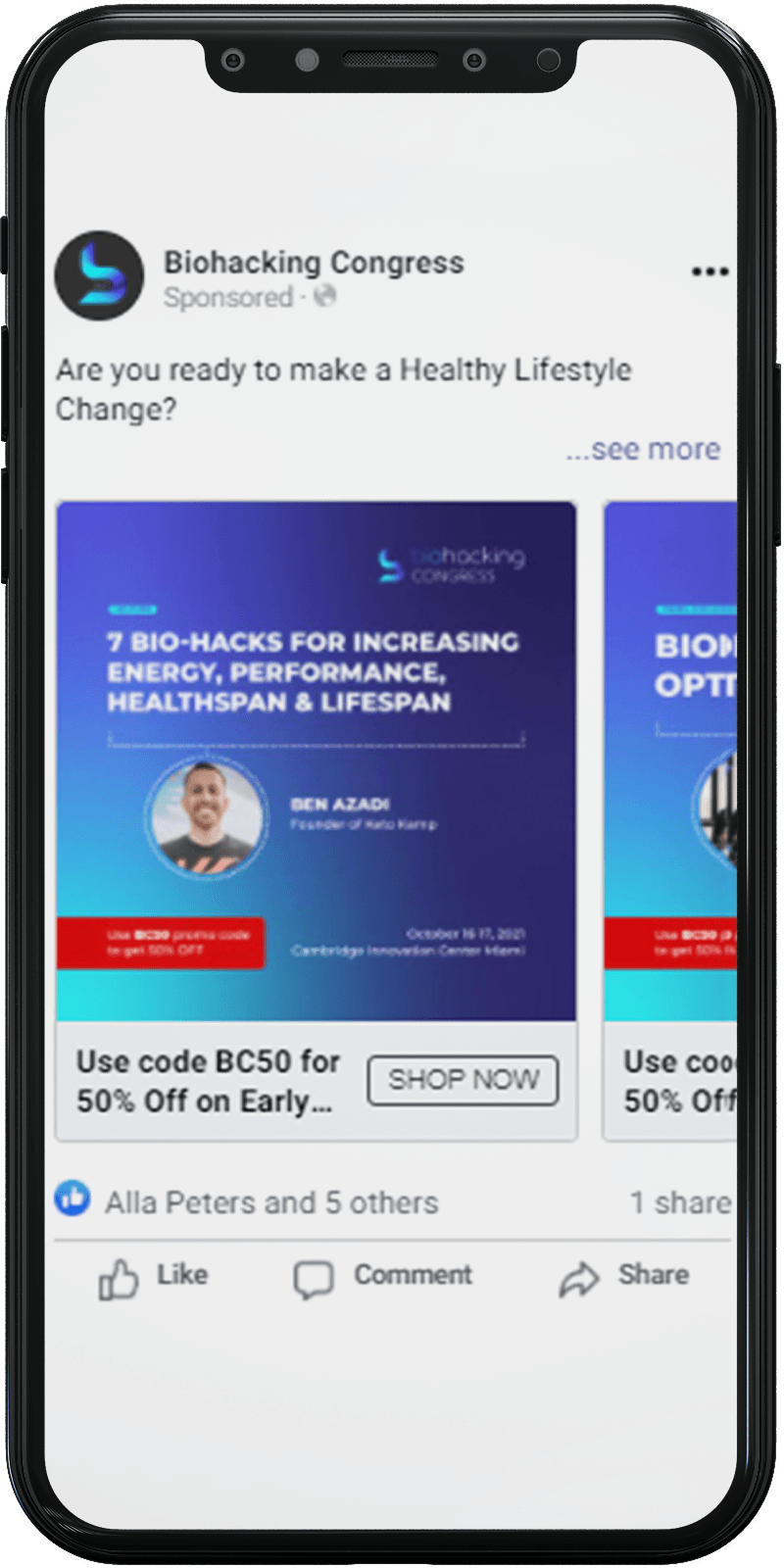 500+ attendees
visited & watched the event after a 5 months campaign
335 ONSITE TICKETS SOLD
which was 111.6% of the target
284 LIVESTREAM TICKETS
found their buyers within 5 months
88.76% more new users
the website got after initial On-Page and Off-Page SEO activities
15% avg. Email Open Rate
with 0.8% of Click-Through Rate among those who opened
3.6% avg. CTR in Social Media Paid Ads
Facebook stats say, Overall Healthcare Niche has 0.83% as an average Click-Through-Rate (2019)